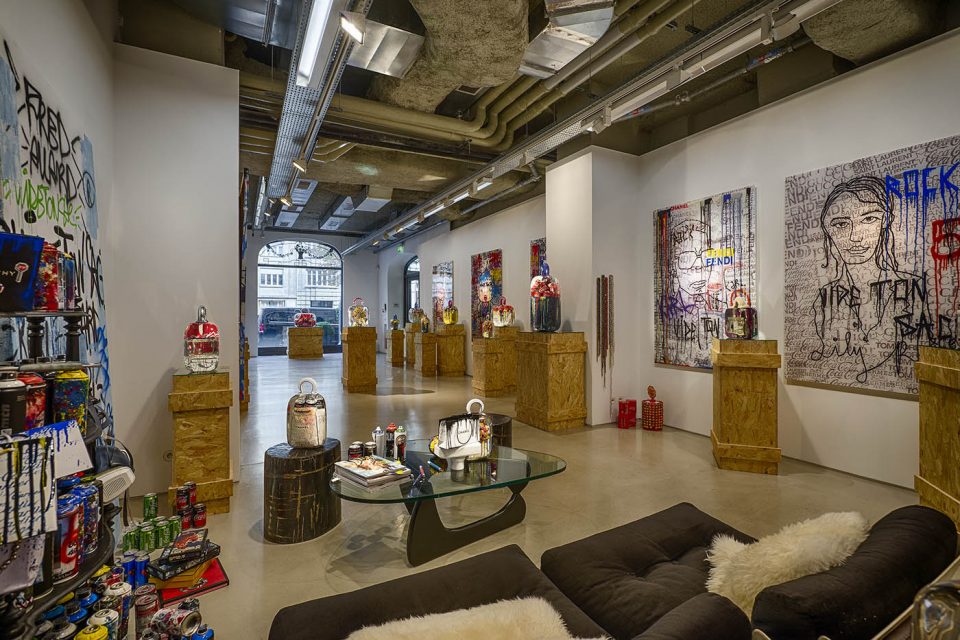 From September 28th, during Fashion Week, Fred Allard settles in at Le Royal Monceau exhibiting a dozen paintings from his work and his different series and collections and about forty « Bags » especially crafted for the hotel.
The artwork will be exhibited from the lobby of the hotel and will form a path leading to the reproduction of his workshop, within the Art Gallery of the Palace, which will serve as an artistic laboratory.
Fred Allard, « sculptor and artist » from Nice, iconoclastic and timeless, is a new actor on the international contemporary art scene.
His sculptures freeze the codes of the street and of luxury, which are to be compared and opposed, found and assembled, to form in the end a unique entity. Crystallized by hand in a translucent material with bright and vibrant colors, these symbols representative of our society seem in his work, having to live together for eternity.
The expressive gesture teinted of punk aesthetics of Fred Allard is the allegoric interpretation of a perpetual search for balance between container and content, between surface and depth, between external and internal appearance, thus penetrating the territory of the intimate.
Fred Allard does not hide a jubilation to manipulate all these concepts, with the humor and spirit of freedom that characterize him, by creating a product without any specific functionality, seeking above all to give birth to a perfect shape, which becomes icon and seems to stop time. Its radical modernity becomes the mirror of our society.
His « Shopping bags » mark his signature and challenge us with the distinctive identity of each work made by the artist: a poetic and charismatic wave.