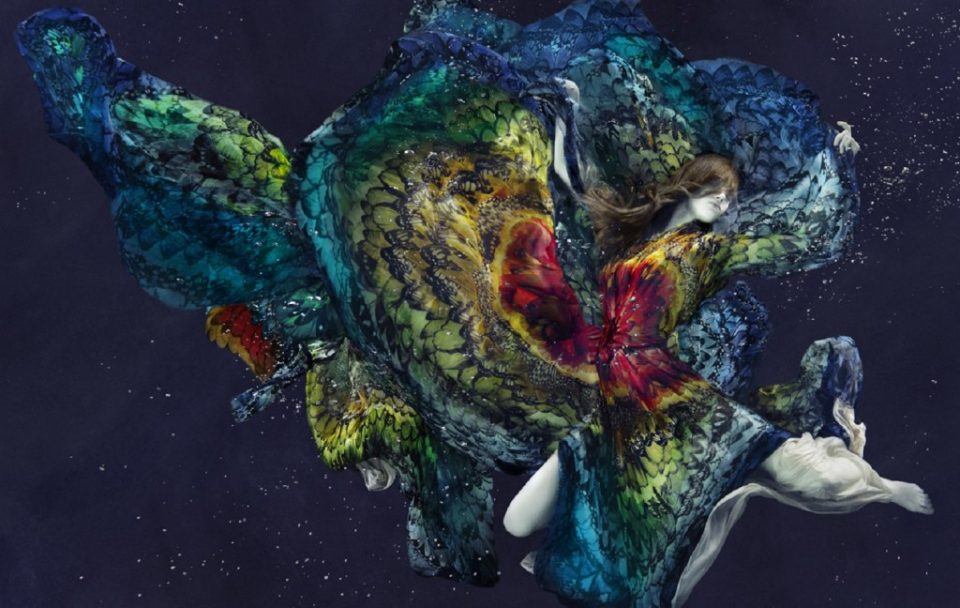 For the Paris Fashion Weeks, Art Photo Expo, exclusive partner of the Art District Gallery of Le Royal Monceau – Raffles Paris, will host "In Fashion", an exhibition gathering a unique selection of fashion photographs from the fifties to the present day.
The works of a score of photographers such as Jeanloup Sieff, Melvin Sokolsky, Pierre Boulat, Georges Dambier, Douglas Kirkland, Albert Watson and Arthur Elgort, to name a few, will pay tribute to the world's greatest fashion designers (Christian Dior, Coco Chanel, or Yves Saint Laurent …). The exhibition will be open to the public from January 26th to March 31st, 2018 in the Art District Gallery.
To highlight the event, Art Photo Expo will present in the lobby of the Parisian Palace, a colossal sculpture by the British artist Zoe Bradley: a dress made up of more than 8,000 folded papers interlaced with each other. (Visual below)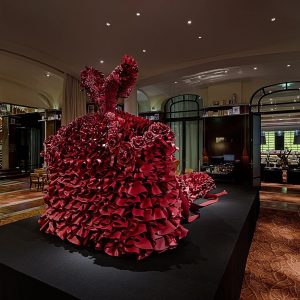 Fashion and Photography are interwoven.
This new exhibition « In Fashion » is centred on Art and Creation, where twenty-one renowned photographers pay tribute to fashion and fashion designers: Claude Azoulay, Gian Paolo Barbieri, Pierre Boulat, Pascal Chevallier, Michel Comte, Georges Dambier, Arthur Elgort, Seb Janiak, Douglas Kirkland, Thierry Le Gouès, Alix Malka, Simon Procter, André Rau, Philippe Robert, Mark Seliger, Mark Shaw, Jeanloup Sieff, Sonia Sieff, Melvin Sokolsky, Mathieu Walter, and Albert Watson.
"For as long as fashion has existed, the most beautiful creations by the greatest couturiers have been immortalized on the glossy pages of the most illustrious magazines. Since the beginning of photography, Fashion is its best model. Nobody is indifferent to fashion photography which reflects society at different eras. Through this exhibition, I have worked to bring together the most dazzling shots of these photographers in order to display this heritage to the public eye." concludes Audrey Trabelsi, co-founder of Art Photo Expo, curator of the exhibition and consultant for collectors in acquisition of Fine Art Photography.