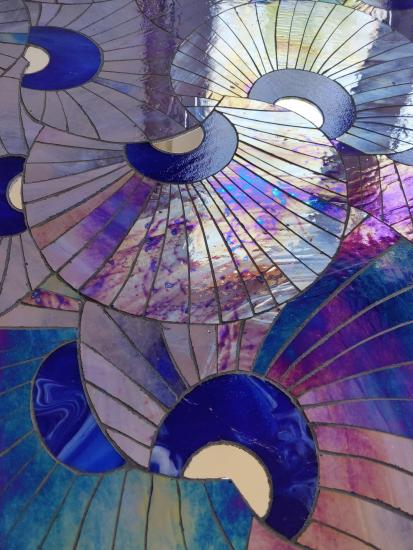 «Glass fascinates me. Its 2D shape, smooth and cold, contrasts with the microcosm of shades embedded inside.» (Myriam Hubert)
Discovered during the Biennale Internationale Révélations at the Grand Palais, in 2022, we have decided to present some of her pieces in La Librairie des Arts du Royal Monceau – Raffles Paris. Her style, undeniably close to floral Art Deco with her geometric, clean and vegetal lines, blends perfectly with the contemporary revisiting of Art Deco by Philippe Starck for Le Royal Monceau – Raffles Paris.
Nothing predestined her to working with glass. Born in 1987 in Compiègne, Myriam Hubert began her professional life working for humanitarian organizations in crisis contexts. Until she realizes that her destiny may lie elsewhere. During her last mission in Lebanon, she pushes the doors of a mosaic manufacturing workshop. The young woman observes the cutting techniques, fast and precise, and then clings to her desire to work on the art of carving the material. In a few months, these apprenticeships based on professional encounters and personal research put her on the job.
Back in France, in 2013 she joined a collective workshop of craftsmen. An intense period of learning and achievement followed, during which glass became her material of choice. The years pass and she gradually abandons her initial project to devote herself to a line of jewelry, which allows her to produce extremely precise glass work. Her line of jewelry quickly met with success. She then thinks back to her aspirations as a mosaic artist and devotes herself to a strong artistic project: glass marquetry. Obviously, "especially since the jewel gave me a whole new look at glass".
At this point in her career, everything becomes clear. In 2018, she presented her first mural compositions and received many enthusiastic feedbacks. In 2022, she participated in the Biennale Internationale Révélations at the Grand Palais, and received the same year the Congratulations of the Jury of the national competition of Ateliers d'Art de France.