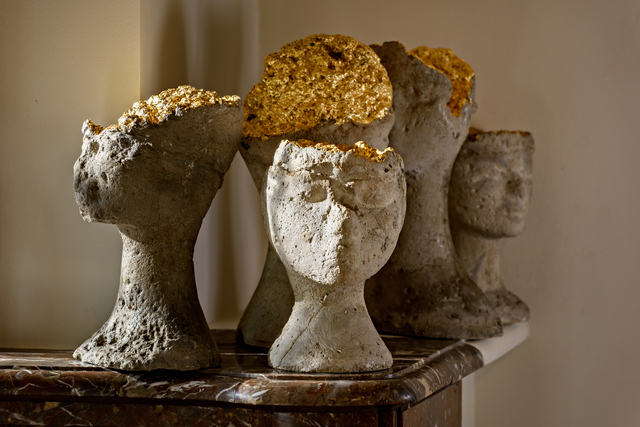 If you recently passed by the Art Bookstore, you might have noticed this curious head whose open skull reflects a brilliant gold.
Spotted at Private Choice fair, each head is made of concrete and gold leaf, revealing its unique poetic and mysterious aura.
The work of Boris Chouvellon roots in urban spaces. Browsing around the outskirts of cities, Boris Chouvellon is a witness and transmitter of gestures, rituals, moments of a living and bubbling world, which he transforms material and codes into the space of the workshop.
In the Chateau d'eau district of Paris, African hairdressers use polystyrene mannequin heads as needle holders, over time, they are gnawed, damaged. By a simple gesture in the form of a ritual, Boris Chouvellon exchanges used heads for new ones, then molds them in concrete and dresses the wounds with gold leaf.
This sculpture attracts attention and light, transporting us into the universe of the artist, repairing beauty.