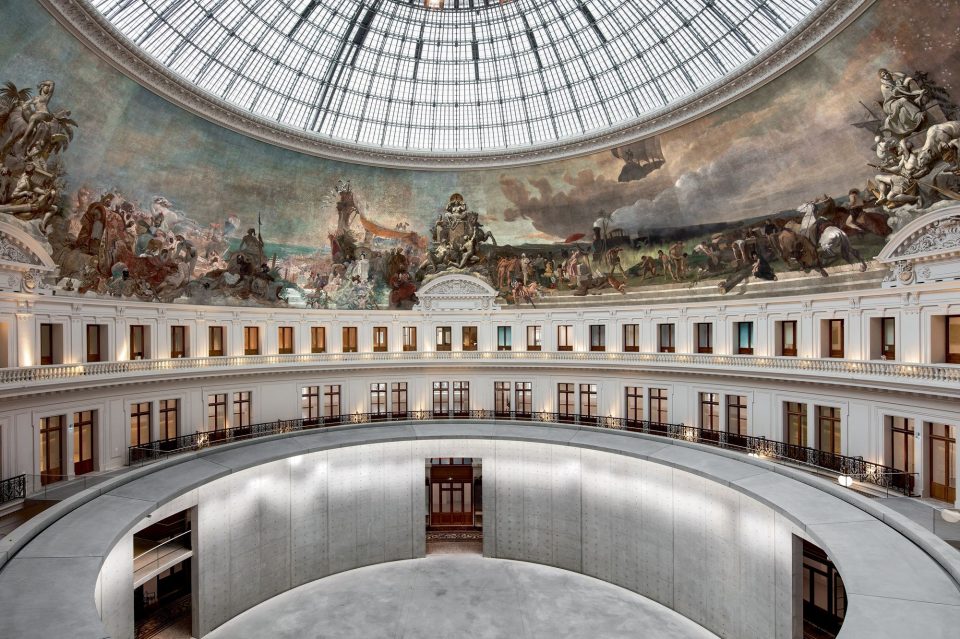 Since 2006, François Pinault has opened several venues in Venice, Italy, such as the Palazzo Grassi, in order to display his collection of more than 10,000 works and bringing together nearly 350 artists, but Paris, the city of light, was missing. While François Pinault had had to give up his project in 2005 to set up his foundation on Seguin Island due in particular to the hostility of residents to it, he had resigned himself to exile. We waited patiently, for 15 years, before he finally returned to France with the inauguration of the Pinault collection – Bourse de commerce.
This historic building has been given a second lease of life in the expert hands of Japanese architect Tadao Ando (who also signed the refurbishment of Palazzo Grassi), in collaboration with Nem Architects and Pierre-Antoine Gatier.
In the heart of Paris, in the Halles district, between the Louvre and the Center Pompidou, the Bourse de Commerce, ideally located, diversifies the Parisian offer, which is already rich in museums presenting contemporary art.
If the open days are already full, the museum remains accessible to all with an evolving program.
For this inaugural exhibition, quite simply entitled "Opening", no less than 13 exhibitions are on offer:
Until August 30 : David Hammons
And until the end of the year:

Bertrand Lavier
Martial Raysse
Tabouret/ Cheng/ Yiadom-Boakye/ Doig/ Dumas/ Serpas/ Marshall
Journiac/ Wilson/ Levien/ Sherman/ Prince/ Lawlar
Pierre Huyghe
Kippenberger/ Krewer/ Schütte
Rudolf Stingel
Tarek Atoui
Tuymans/ Cahn/ Opa
Urs Fischer
Philippe Parreno
Works in situ
A great introduction! Then you know what you have to do. Book now!
Bourse de Commerce – Pinault collection
2 rue de Viarmes 75001 Paris