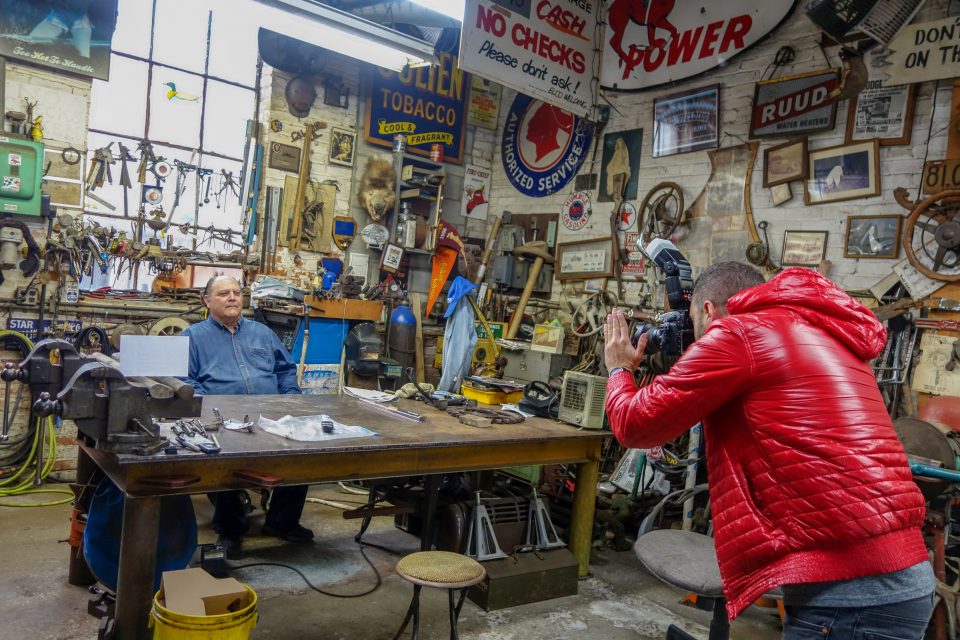 We cannot wait for the signing event of Vladimir Antaki ! The Art team of Le Royal Monceau – Raffles Paris asked him some questions about his practice and story. A bit of avant-goût before the signing of November 8 taking place at the Art Bookstore from from 6pm to 9pm :
How did the idea of ​​The Guardians came?
My fascination for shopkeepers and artisans goes back to my childhood: I often made friends with local merchants and spent magical moments in their shops and workshops. Being a very nostalgic person, their progressive disappearance affected me and I decided to pay tribute to them by looking for these "urban temples" guarded by these colourful and touching characters, take their portraits and share their stories. During the past seven years, I have visited twenty cities including Paris, New York, Beirut, Montreal and met hundreds of Guardians. My book compiles 45 stories and portraits of Guardians aged from 32 to 91 years old.
What have catched your attention with the guardians?
Their passion. They are, for the most part, people who fight for their right to exist and who evolve in a society that does not seem to care about their disappearance. Some are lucky to find someone to take over, others, unfortunately are forced to close shop and see their knowhow disappear with them.
What was the most impressive in this encounters?
Many people wonder how my Guardians find things in the clutter of their shops / stalls, and I tell them that they know exactly where to find what they are looking for. It is quite impressive.
Could you tell us more about your practice as a photographer?
I have a penchant for portrait and documentary photography: I take great pleasure in capturing my vision of reality. I am a pretty meticulous person who likes to compose his frame to the millimeter and take as few photos as possible. It's a way of shooting that suits me well and that allows me to adapt to different situations.
Your inspirations?
Without hesitation, cinema. I was lucky to have parents who never forbade me to go to the movies. I devoured movies like some eat chocolate. I had a collection of more than 1000 movies in my teenage room and my friends would come over to watch movies and discover authors: Kubrick, Lynch, Hitchcock, Scorsese, De Palma, Coppola, Waters, Chaplin, to only name a few of the most famous. I think this love of cinema is reflected in my way of composing an image.
What is next for you?
I am currently taking part in the Biennale of Photographers of the Contemporary Arab World at the Arab World Institute; I present an installation called "Beirut, my love", a visual love letter to this city dear to my heart and which is also an ode to the past, the present and gestures towards the future. I am also working on a multimedia installation for my Guardians that will immerse the viewer in the heart of their universe.