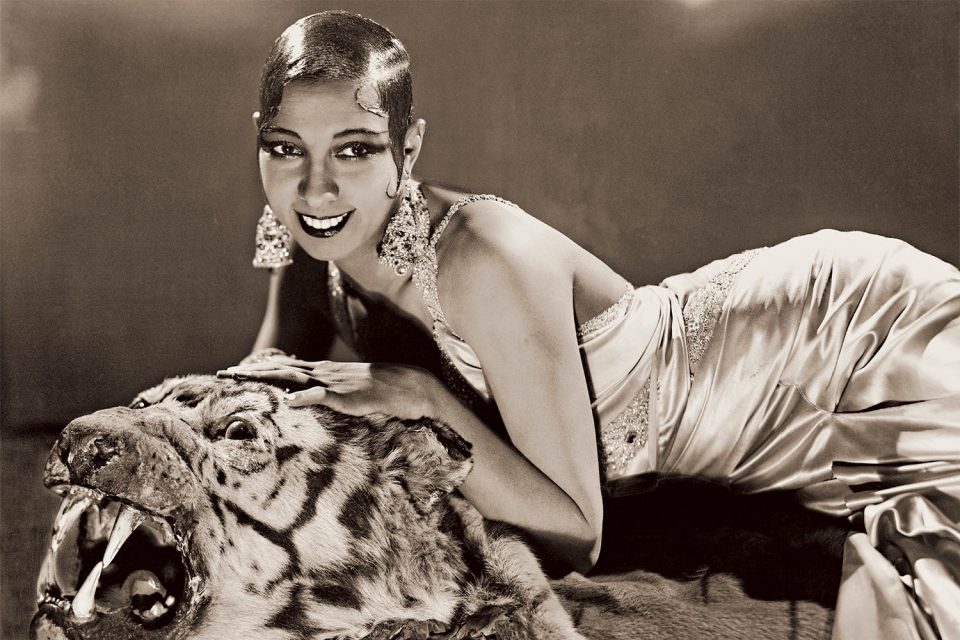 The history of the Royal Monceau began in 1928, during the Roaring Twenties. The Art Deco style was then at its height and the cultural and artistic scene was in turmoil.
The artists follow one another in this new Palace located close to the famous Parc Monceau and not far from the Champs-Elysées. We could cite many artists, including Ernest Hemingway, Pablo Picasso and Jean Cocteau, but today we would like to draw your attention to a singular personality: Joséphine Baker.
Born in 1906 in Saint Louis, Missouri, Freda Josephine McDonald, known as Josephine Baker, had a difficult childhood in an America where segregation persists in many states. The eldest of the siblings, she has the heavy task of helping to feed her family at a very young age and she is sent to do housework by her mother. She married in 1920 when she was only 13 years old. This first marriage ends the same year; she then joins a troupe of street artists with whom she begins to exploit her dancing talents. She remarried very quickly in 1921 with Willie Baker who gave her his stage name. This marriage will not last either but allows him to leave the family cocoon and to emancipate himself. She left for New York at 16 to live her dream: "to dance on Broadway".
By dint of perseverance, she ends up joining a first troupe, then a second. She went on tour and joined a new troupe after two years. Chance and luck lead her to the wife of Donald J. Reagan (then Commercial Attaché of the American Embassy in Paris). She sees Baker's talent and potential and offers to follow her to France where she promises to make her the star of the show she is about to put on: La Revue Nègre. We are then in 1925.
After several weeks of rehearsals, the troupe proceeds to the Théâtre des Champs-Elysées with Joséphine Baker opening. Success followed scandal, Joséphine caused a sensation: almost completely naked, she danced the Charleston (a dance still unknown in France) with a loincloth on her hips and played the "savage" by making many mimics.
Two years later, after becoming the star of the Revue Nègre, she broke her contract to sign at the Folies Bergères. She holds one of the leading roles in the magazine and this is where she appears with her famous banana belt. Josephine's career is on the rise. She starts singing, then plays in the cinema. She became the muse of a few cubist artists and was immersed in this atmosphere where "black" culture spread, especially with the advent of Jazz in the Montparnasse district.
And if for Joséphine, this period was a liberation from the shackles in which she felt trapped in the United States because of segregation, for the general public, this period is full of incomprehension until today. His detractors will tell you that his shows have reinforced stereotypes and the image of black people seen as savages dancing naked to the rhythm of tam-tams. When its fervent defenders explain to you that it was a question of denouncing and mocking the colonialist vision that the white man and what is more, the French, could pose on the black man: the proof is the grimaces made by Joséphine while she was dancing that underline people's inability to see what is in front of them.
However, it is undeniable that Josephine Baker, nicknamed the Black Venus, was a great activist for the black cause and for the fight against all forms of racism. Indeed, she could not stand the racist look that some people cast on her and her peers and felt close to all those who suffered from this same discrimination. Also, she was part of the "Harlem Renaissance" movement fighting for the renewal of African-American culture (especially literary) with Marcus Garvey, Louis Armstrong, or Duke Ellington. Later, she would campaign for the end of apartheid in South Africa and would be the only woman to speak alongside Martin Luther King during the March on Washington for Jobs and Freedom in 1963.
She also committed herself to France, which had given her so much and when the 2nd World War broke out, she joined the Air Force and entered the resistance, passing coded messages hidden in her scores using her celebrity and of his freedom to travel for his performances, which earned him numerous decorations.
It is therefore not so surprising that today, on this November 30th, 2021, France decides to honor her by bringing her into the Pantheon. She who believes that France has given her everything and who was therefore ready to give her life for France.