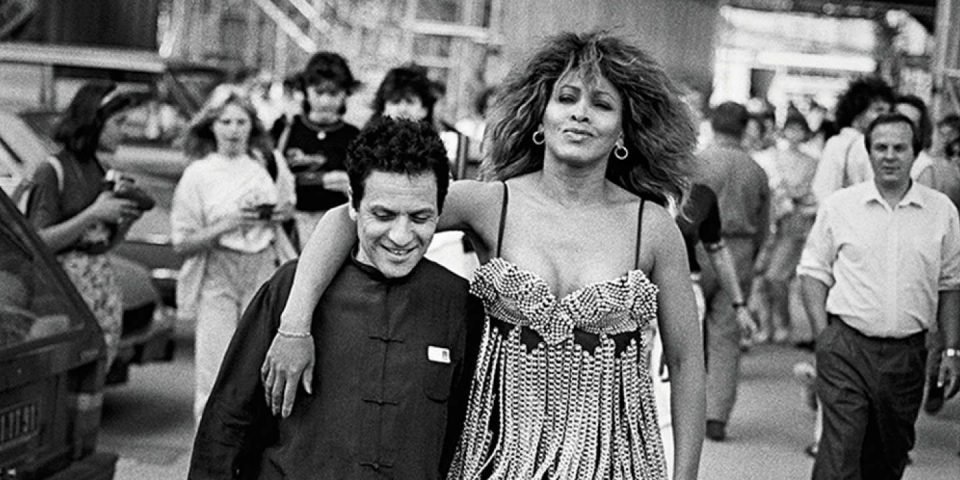 While in Paris, Men's Fashion Week ends (June 22-27) and Haute Couture will begin (July 4-8), we are interested in a couturier known and recognized as THE women's body sculptor. This couturier is none other than Azzedine Alaïa. Of Tunisian origin, he trained in Tunis as a sculptor at the Beaux-Arts. He discovered sewing, observing his sister Hafida and helping her from time to time. He began to copy Dior or Balmain models for his neighbors and the wealthy women of Tunis and thanks to word of mouth and meetings; he ended up obtaining a place at Christian Dior in France, a place that he only kept for a few days before being fired. It is 1956, during the Algerian war and times are hard for people coming from North Africa. But, again thanks to fortuitous encounters, Azzedine Alaïa will find on his way Simone Zehrfuss then Louise de Vilmorin who will introduce him to the Parisian bourgeois high society and will allow him first, to establish a clientele and later, to create his business.
After making dresses in complete confidentiality in his small workshop rue de Bellechasse, he ended up getting started in the early 80s and created his label in his name. Very discreet, he organizes his shows outside of Fashion Weeks and always in his studio, which will move as he expands. Adored at the end of the 80s and the beginning of the 90s, his style is recognizable by his way of sublimating the body of the woman by emphasizing its curves in often very tight dresses and by sculpting it. Alaïa loves women and makes them feel good. We all have in mind the sculptural pink dress of Grace Jones in the James Bond movie "Dangerously Yours" or the spectacular outfits of Tina Turner, or his monochrome or black dresses that shape the body.
Black, the stylist-couturier's favorite color, allows him to magnify personalities. And it is this taste for the dark that he has in common with the German photographer, Peter Lindbergh, with whom he collaborated from the 1980s until his sudden death in 2017.
Peter Lindbergh, trained in applied arts in Berlin but very quickly felt the need to travel. He interrupted his training to travel to France in the 1970s, in the footsteps of the artist for whom he had a fascination, Van Gogh. Then, he returns to Germany where he will finish his studies. He quickly turned to photography and gained notoriety in the field of advertising in Germany.
Passionate about black and white cinema and panoramas, he discards the color of his work; B&W is a way for him to seek the authenticity of the faces he highlights. His work goes off the beaten track and out of the studios. His photographs are intended to be more realistic than commercial and it is thanks to a photograph taken for Vogue in 1988 that Peter Lindbergh will make fashion history. This image brings together on the beach of Santa Monica, barely made up and dressed in a simple white shirt, the models: Linda Evangelista, Karen Alexander, Christy Turlington, Estelle Lefébure, Tatjana Patitz and Rachel Williams who then are still unknown and gathered for the first time in the same photograph. Rejected by American Vogue, it was published by British Vogue. A second image, which this time will make the cover of British Vogue, brings together Christy Turlington, Tatjana Patitz, Linda Evangelista, Naomi Campbell and Cindy Crawford. And it is this simple image that will mark the beginning of the era of "supermodels".
When in the 80s, Alaïa and Lindbergh meet, it is artistic love at first sight. Both showcase the woman with as little artifice as possible. Their collaboration becomes legendary, like Richard Avedon and Christian Dior or Helmut Newton and Yves Saint Laurent. The exhibition "Azzedine Alaïa, Peter Lindbergh", under the direction of Benjamin Lindbergh and Olivier Saillard, at the Azzedine Alaïa Foundation, is an opportunity to immerse themselves in their common universe and reunited for the first time together, the photographs of Peter Lindbergh featuring Alaïa's outfits and the outfits themselves.
Photography lovers or fashion enthusiasts, this exhibition is for you.
And to extend or deepen the exhibition, Taschen editions have published a magnificent catalog retracing their collaboration which nevertheless lasted more than 30 years.
Azzedine Alaïa, Peter Lindbergh
Fondation Azzedine Alaïa, 18 Rue de la Verrerie 75004 Paris
From May 20th to November 14th, 2021
Peter Lindbergh. Azzedine Alaïa
Taschen edition
60€